Advantage ATM and Checkcards are accepted worldwide for purchases in person, online, in-app, and by phone wherever Visa is accepted.
When a cardholder makes a purchase at a merchant, they may be asked to authorize the purchase with a signature or PIN. In many Point-of-Sale (POS) scenarios, the cardholder is not immediately presented with a choice regarding the authorization method.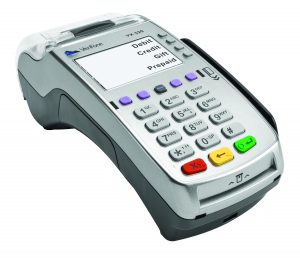 Choosing Credit at a Merchant
If a merchant accepts both "Credit" and "Debit" payment options, you may be presented with the option to choose the payment method you prefer. Just swipe, insert, or tap your card and select either Credit or Debit.
On some terminals, you may not be offered the choice of credit or debit after swiping, inserting, or tapping your card. If you are prompted to enter your PIN, you may be able to press CANCEL to make a signature or credit purchase.
Some terminals will prompt you to choose "Visa Debit" vs "U.S. Debit." Visa Debit means that the transaction will run on the Visa network as a "credit" (for most purchases), while "U.S. Debit" means it will run on a debit network (NYCE, Pulse, etc.).
Credit transactions may be authorized with or without a signature and usually post to your account in 1-3 business days. Debit transactions may be authorized with or without a signature or PIN. You may choose to receive up to $100 cash back at participating merchants. These transactions usually post to your account in one business day.
Both transaction types will be subtracted directly from your checking account so it's easy to keep track of your purchases. Plus, detailed information about the purchase will be included on your statement.
Transaction Security
All Advantage Checkcard transactions are covered by industry-leading fraud management, which offers continuous fraud monitoring that deters and detects suspicious activity on checkcards.
Transactions that route through Visa are covered by Visa's Zero Liability policy, which means cardholders are not held responsible for fraudulent charges.
All consumer debit card transactions are covered under the Electronic Fund Transfer Act (EFTA), or Regulation E.
With Visa, debit cardholders benefit from reliability, flexibility, and security no matter how they use their card!